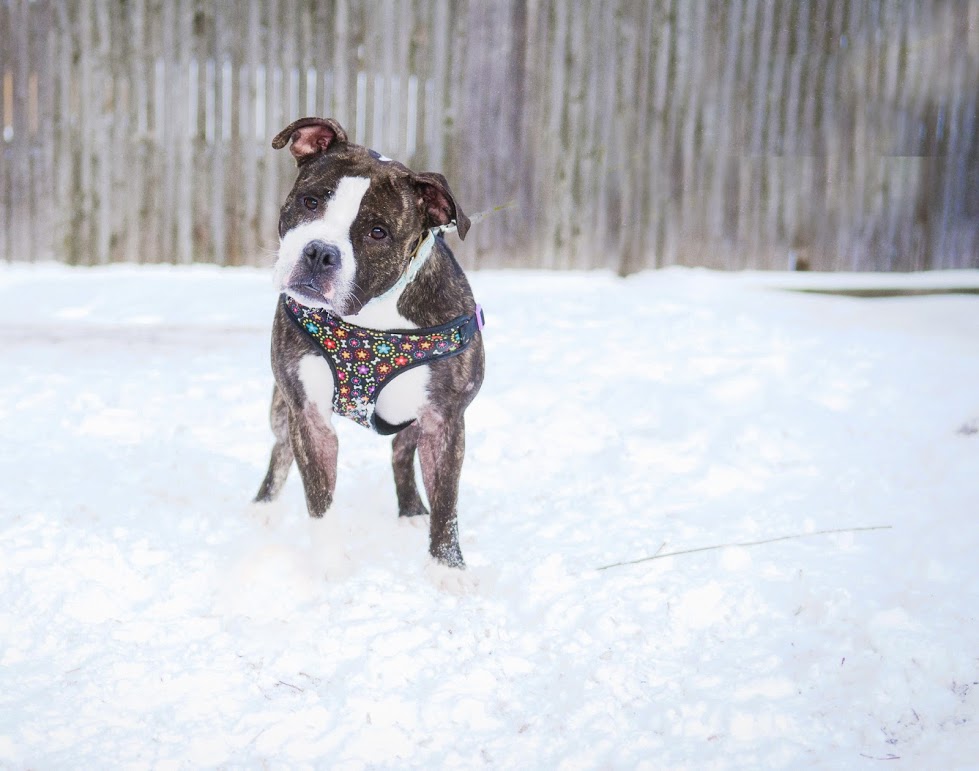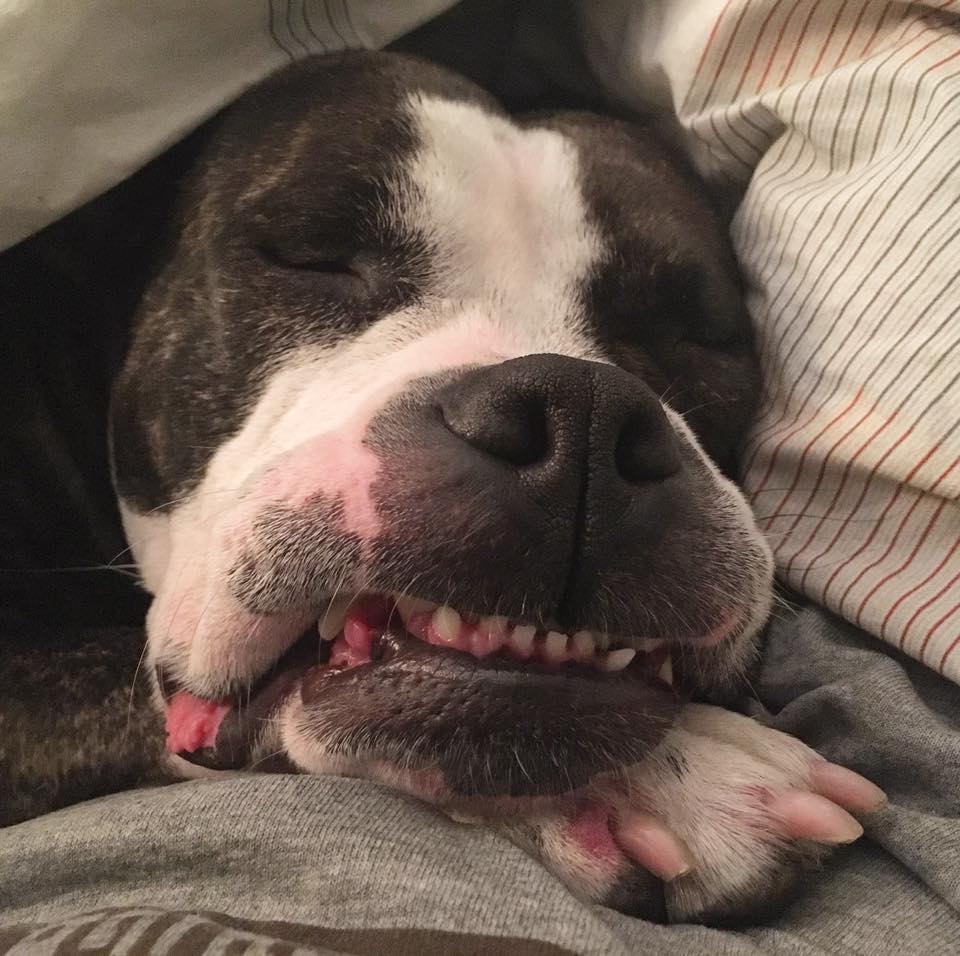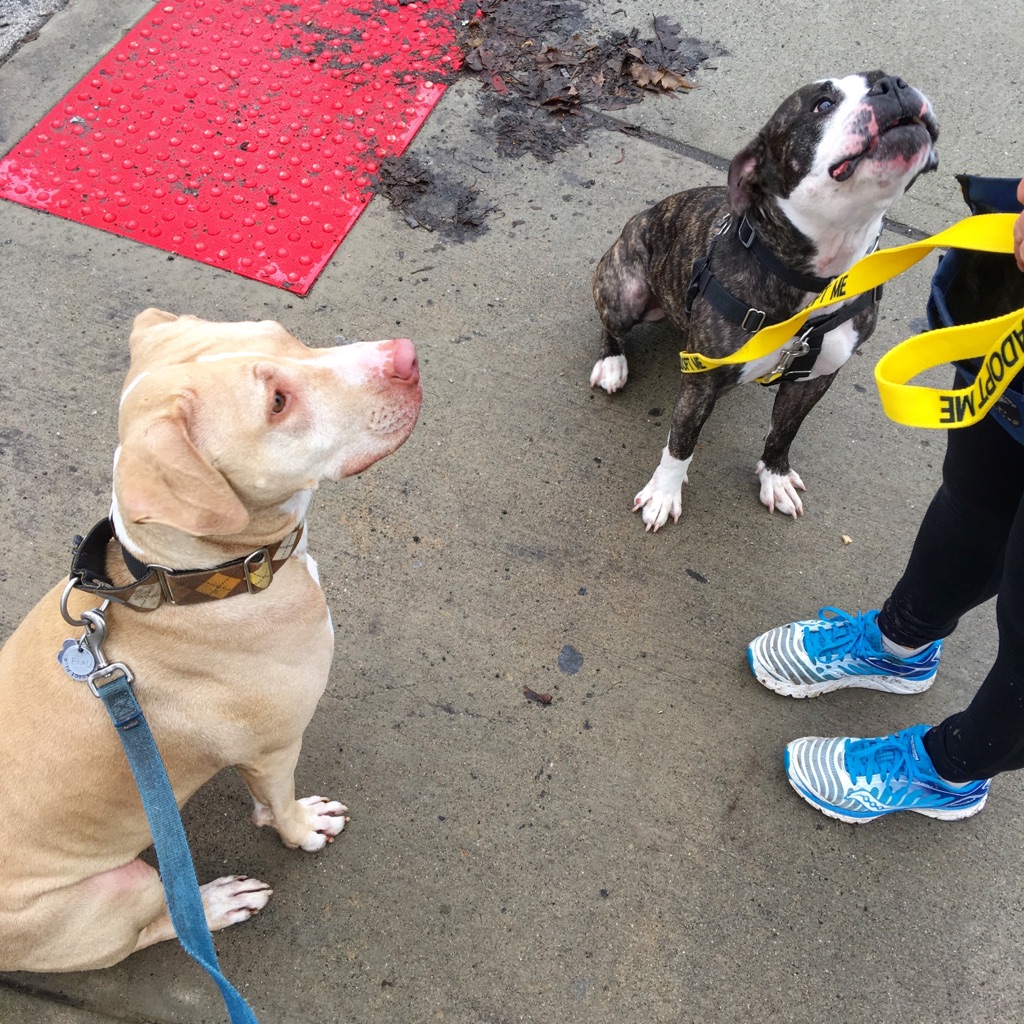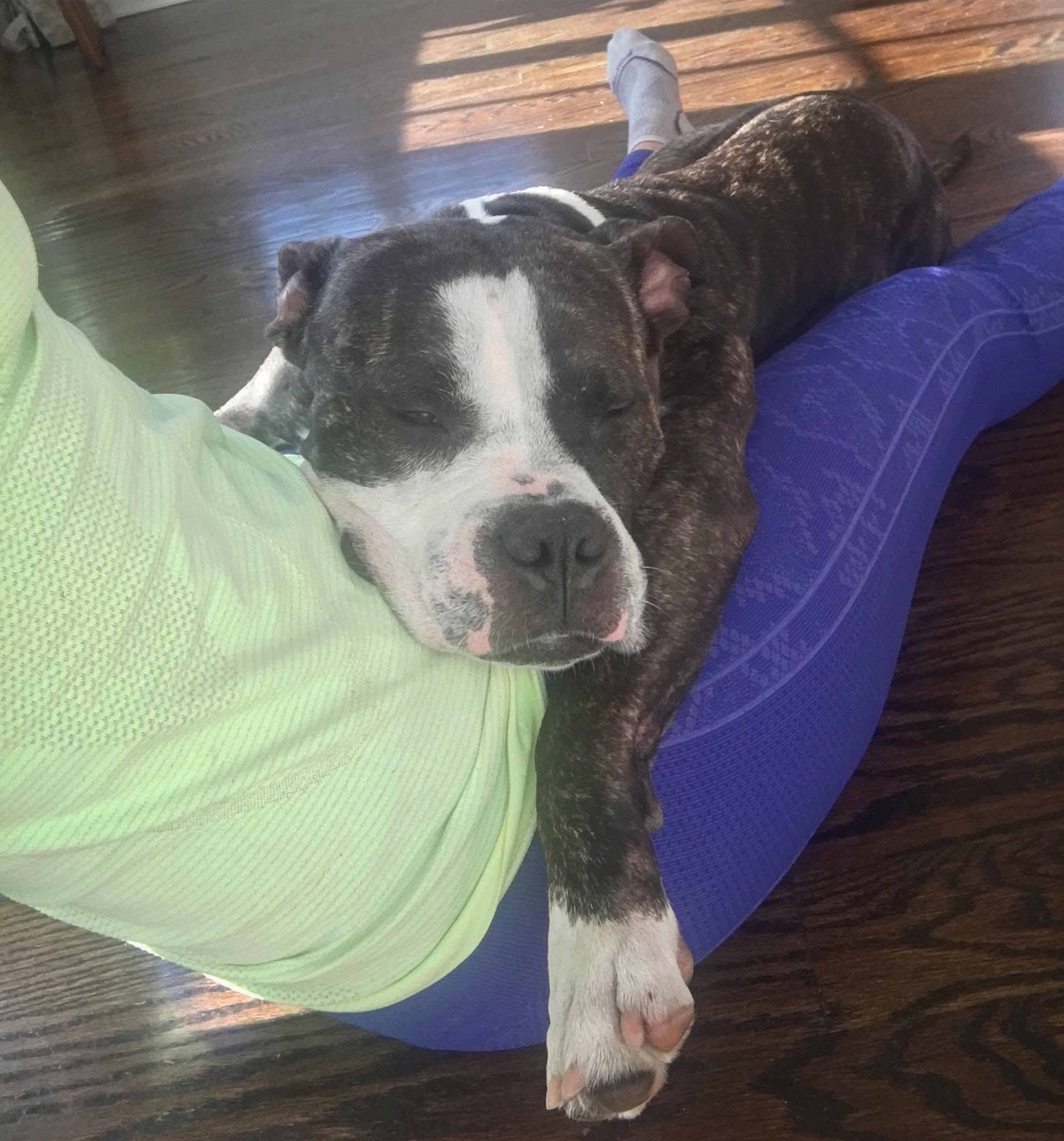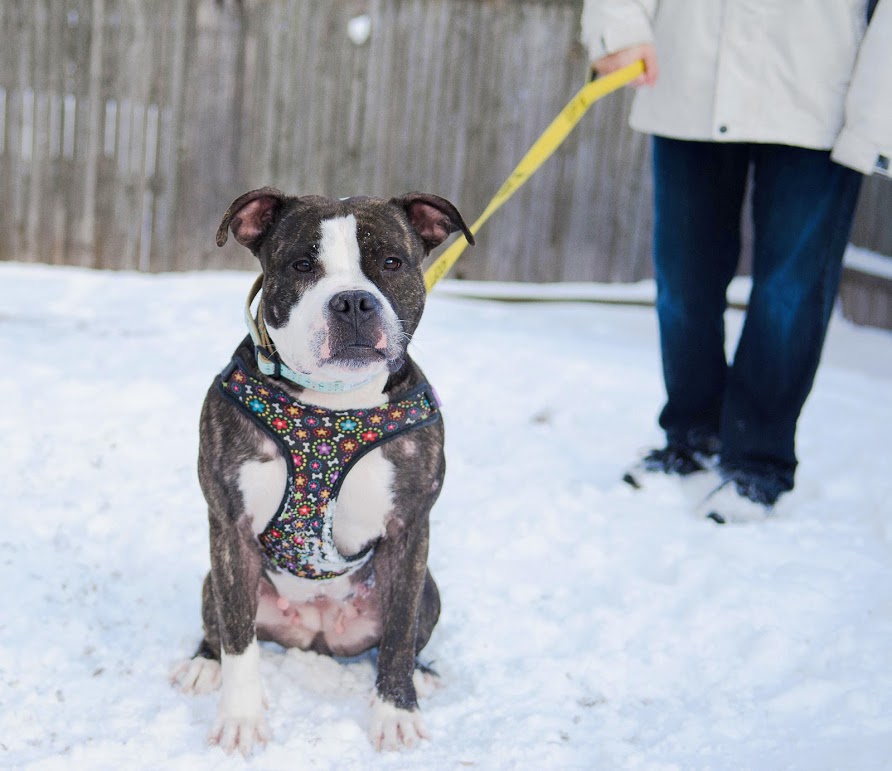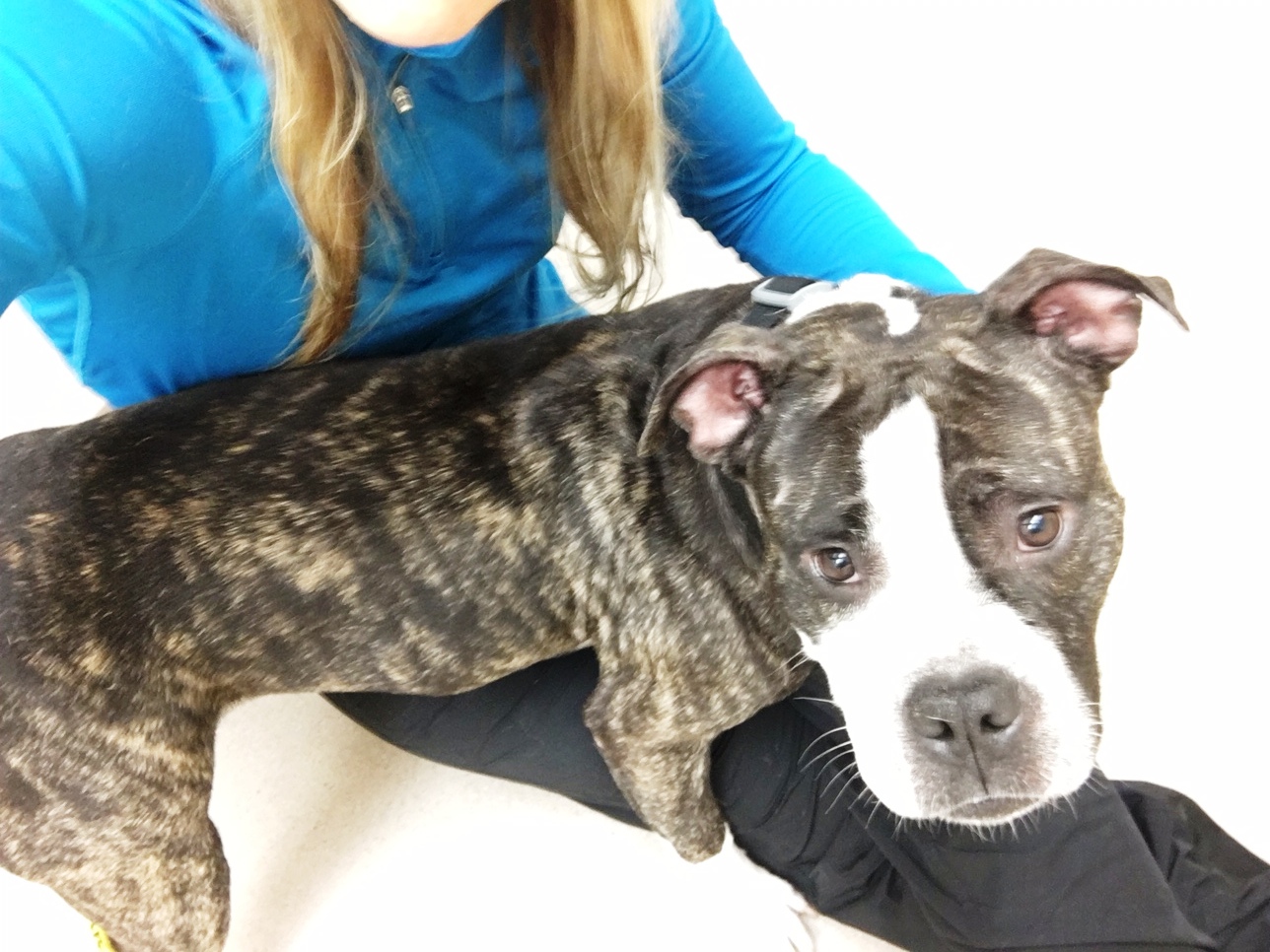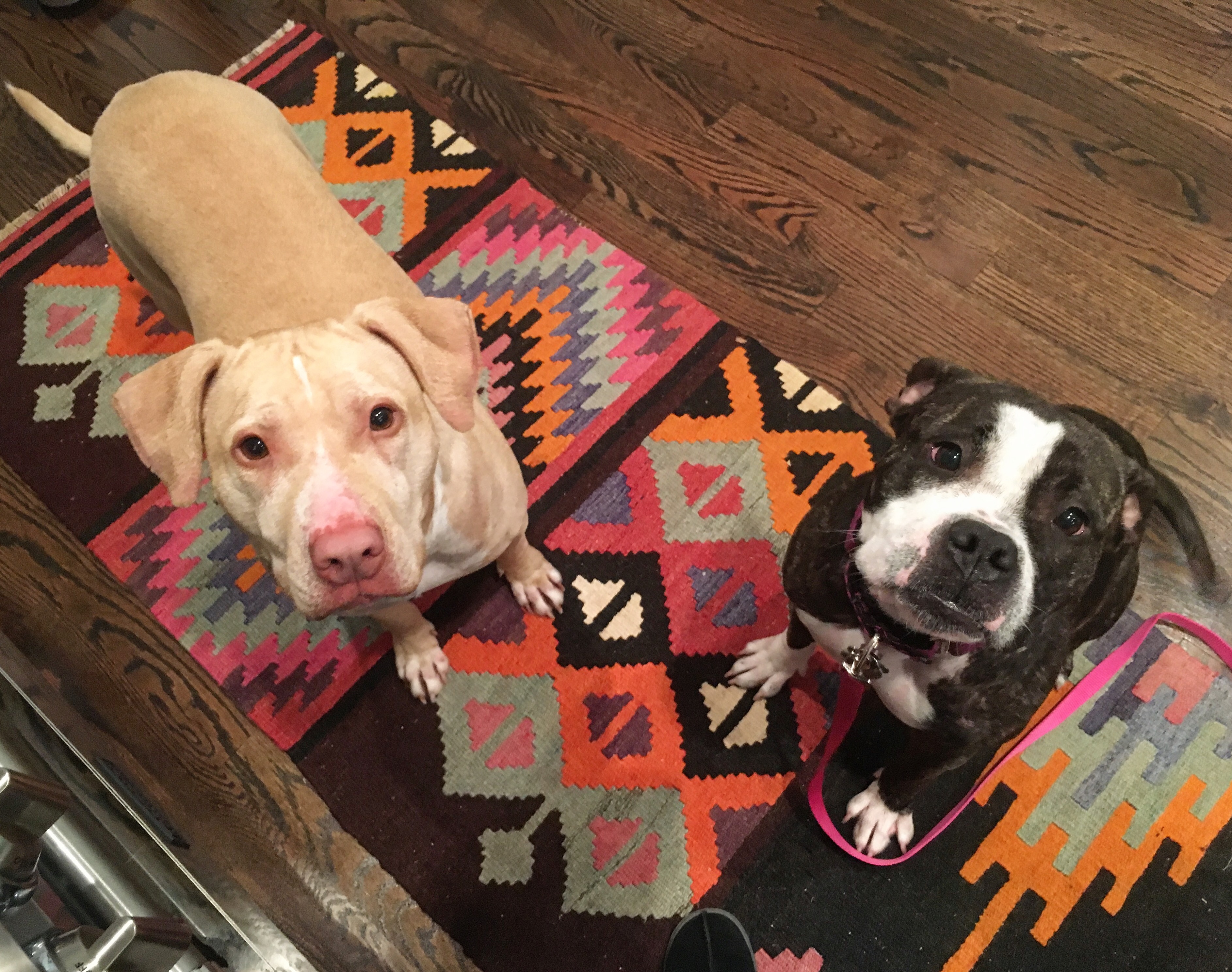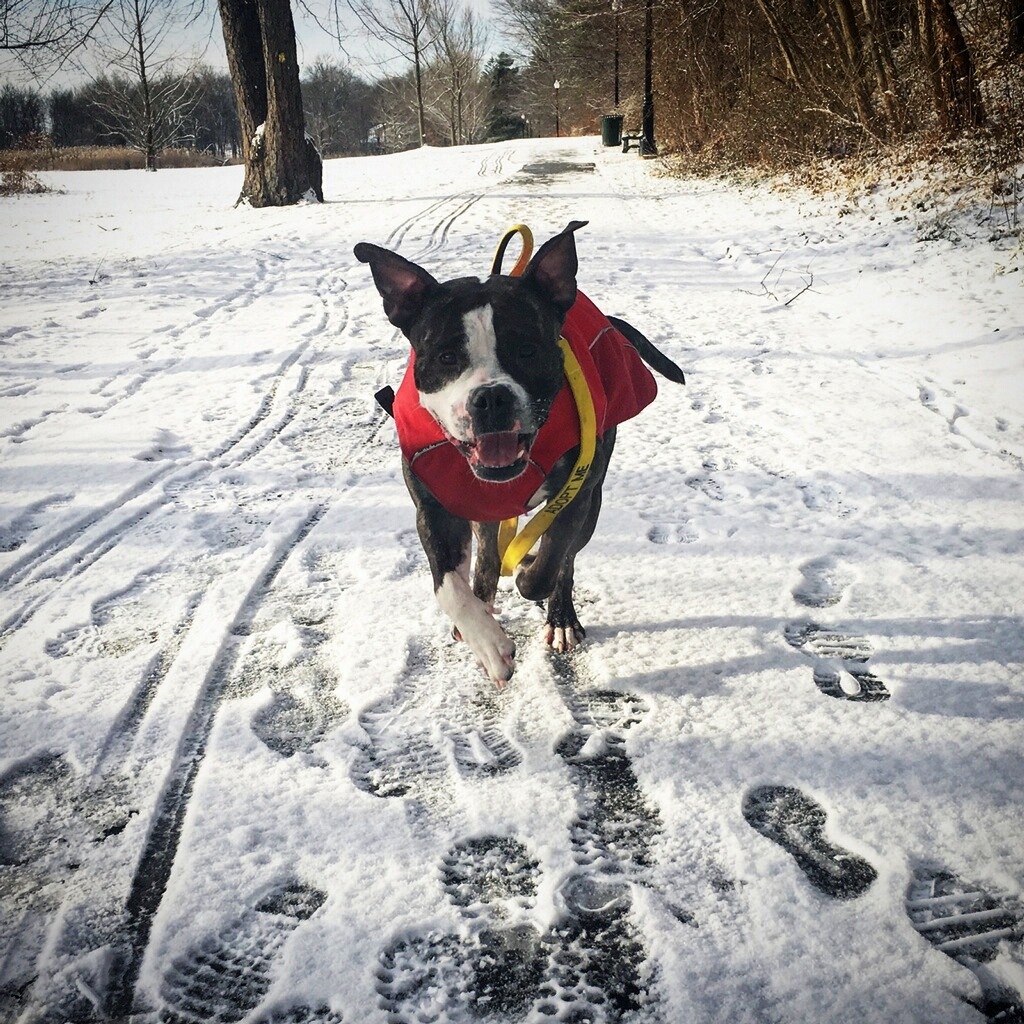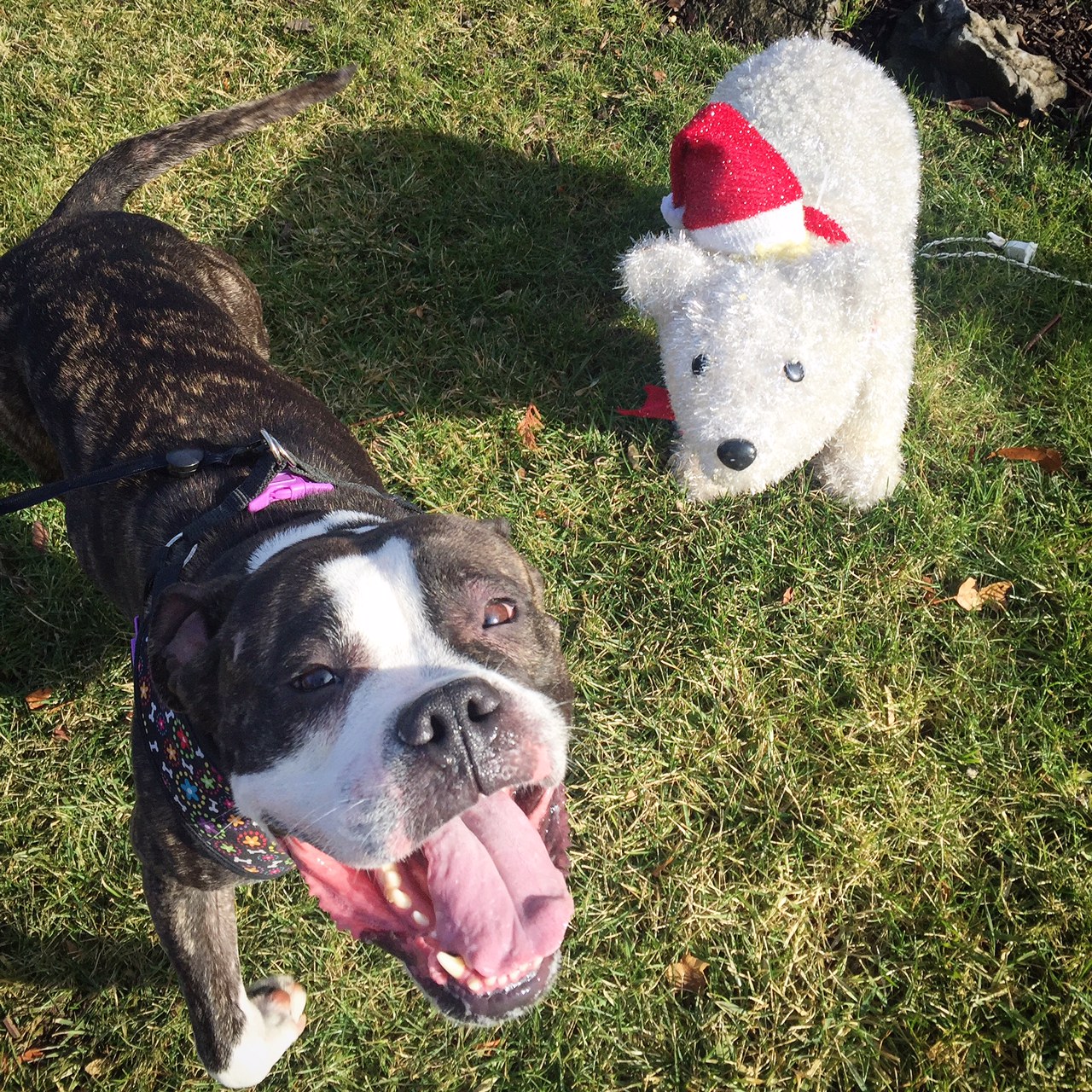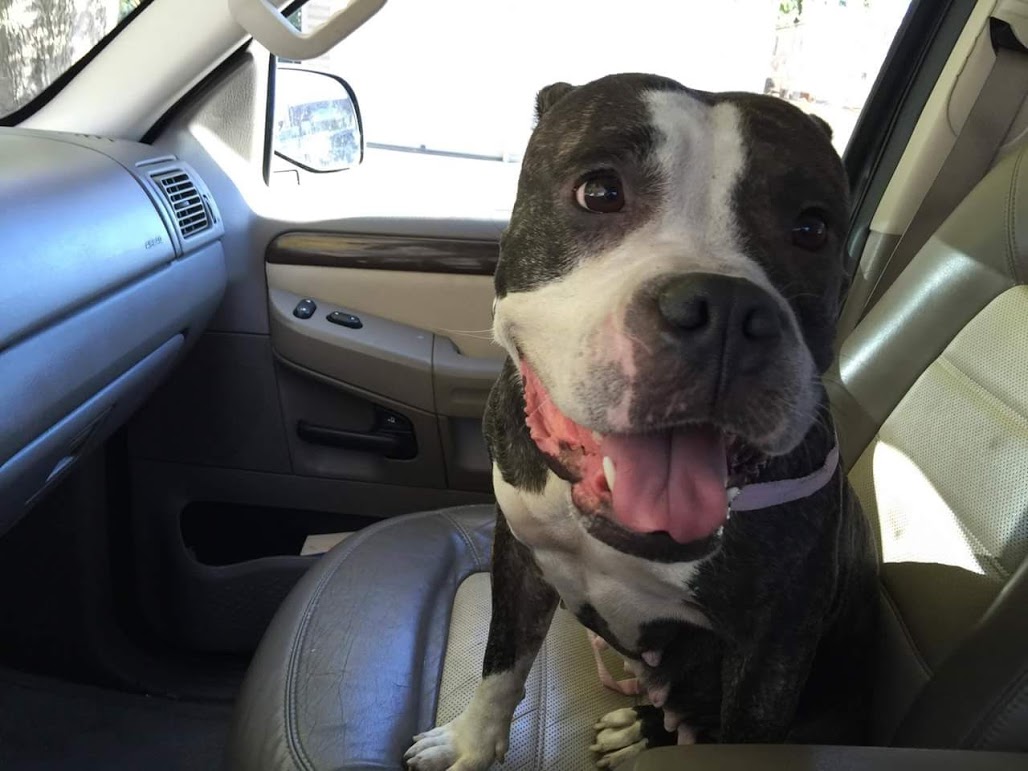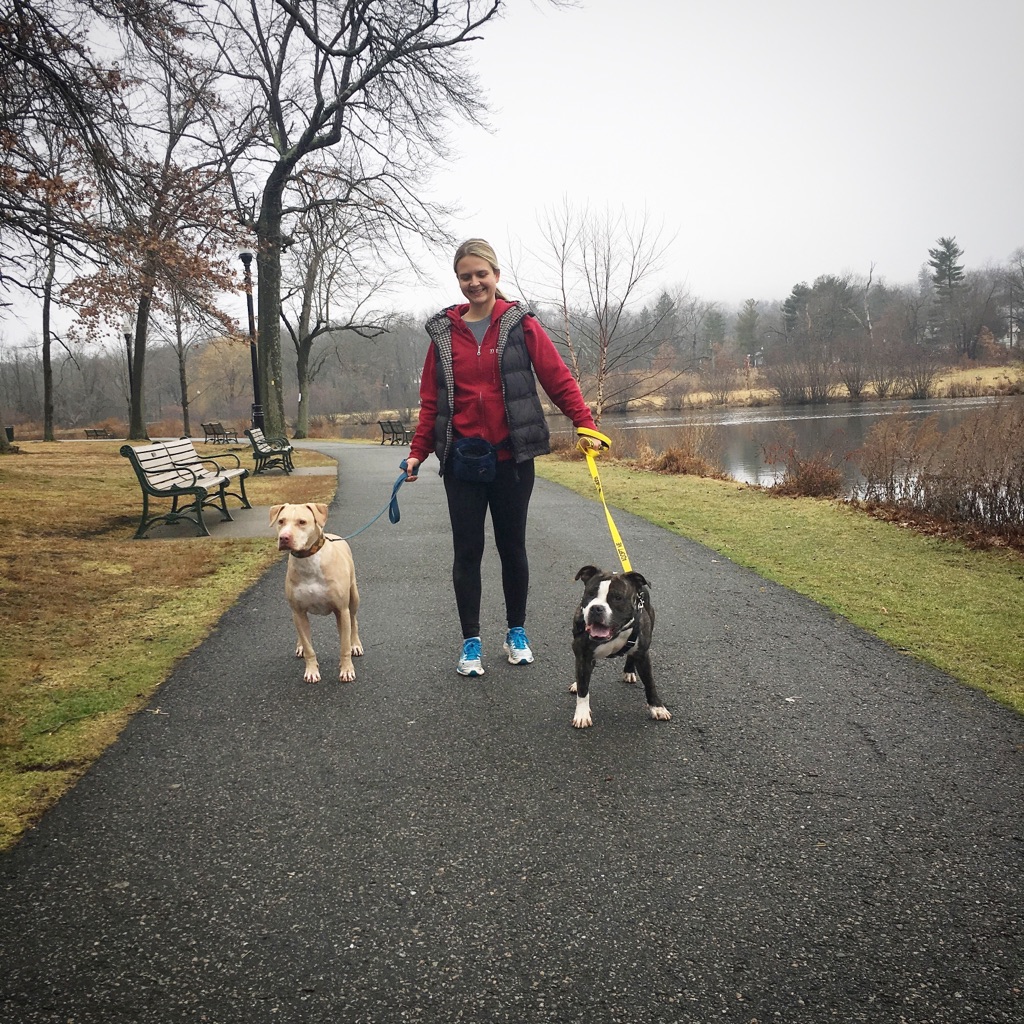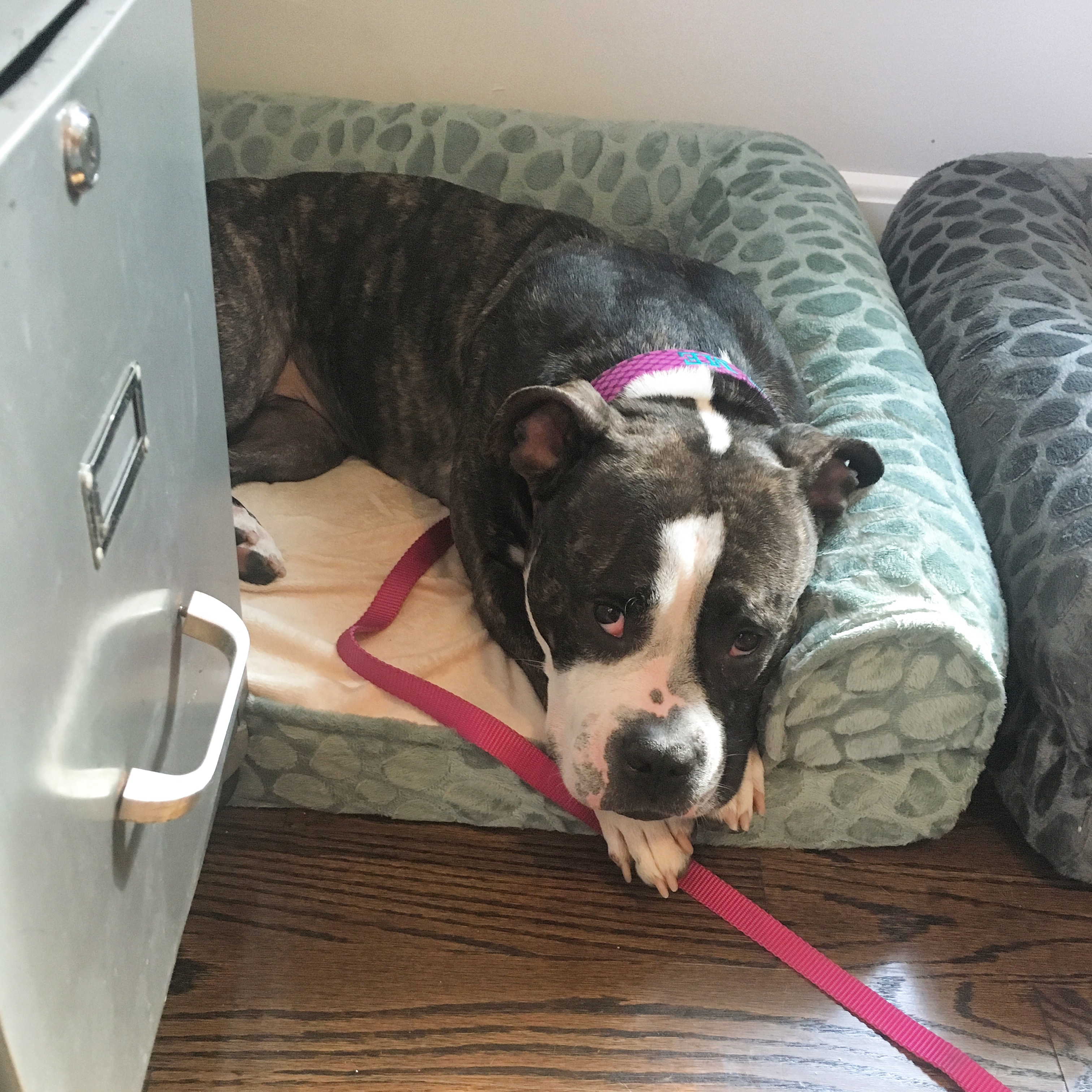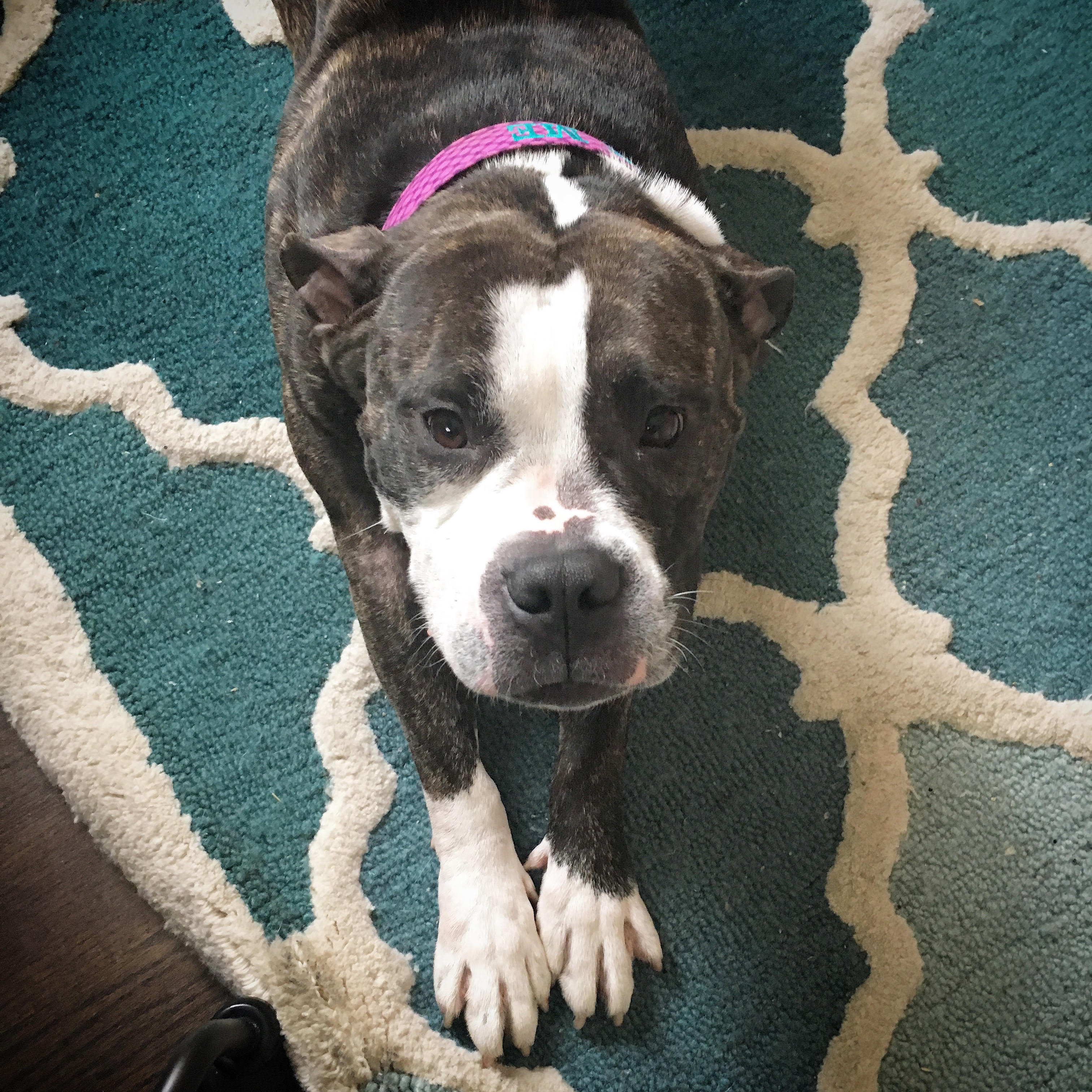 Lucy's Woof-Facts
Female, approximately 3 years old, American Staffordshire Terrier/English Bulldog-mix, 55 lbs
Loves people — has been wonderful with all adults and children she has met
Specialty: smooches, butt wiggles and tail wags
Eager to please and food motivated which will help in continuing her training
Requires daily exercise as she is a young and athletic girl
Good with dogs but can be overly playful for some

No cats (unless in complete separation) – she has a prey drive!
Quick introduction to Lucy
Hi, I'm Lucy! You can call me Lucy Loo, Loosey-Goosey, Lucy the Love, or any other endearing name. Just make sure you say it in a high-pitched voice, and I'll come running right to you, giving you my three favorite things: smooches, butt wiggles and tail wags. And just so you know, my smooches are especially unique, and here's why… I have this adorable underbite, so when I attempt to plant a kiss on your face, you'll actually feel my chin before you feel my tongue. It's actually super-cute — my chin gets in the way just a bit at first. But don't fret, the kiss is not too far behind, and it will be the kiss of your lifetime (big lick)!
If you'd like to see lots more photos and videos of me you can follow my foster mom on Instagram at @ourpitstop, and check out my hashtag on social media: #MakeLucyLucky – you won't be disappointed!
Lucy's Background
I was wandering the streets alone, scared and hungry. I happened to see an open doorway to a building — some type of warehouse — so I decided to wander inside. There I found some nice people, and it only took 20 minutes for me to realize that I had found new friends who could provide me with care and safety. That's when my tail started wagging and my kisses started flowing, and neither has stopped since. And I mean that literally… every photo my rescuers have taken of me features a blurry tail, which basically means it's always in motion. I'm as happy as a clam that one doorway closed and another one magically opened when I found the people in that warehouse who came to my rescue—I am one Lucky Lucy.
Lucy's Typical Day in Foster Home
I am currently living in a foster home with my foster parents, a male dog who is older and larger than me, and a cat who keeps to herself (which is a good thing because I go a little crazy chasing her when I get the chance!).  In the mornings I wake up with my doggie foster brother, get out my "morning zoomies" in the yard, gobble up my breakfast (but I like my foster mom to stand there while I eat – otherwise I get bored and try to find my foster brother to initiate a play session!), and then it's time for our morning walk!  I'm energetic (not too high-energy), but since I'm young and athletic, I do need a good amount of exercise every day. I pull a bit on the leash (especially when I see other dogs – so exciting!) but my foster parents are working on that with me.  I would love to have some more training on this in my forever home – I love to learn!  After our morning walk I'm a good girl and snooze the day away while my foster mom works from home.  If she has to go out, I'm perfectly content to snooze in my crate with a tasty frozen stuffed kong that she leaves for me.  In the evening I enjoy another walk, or a run with my foster dad!  So far my farthest is 5 miles – it's so fun!  After dinner it's time for snuggles – I love to snuggle!  And at bedtime I sleep in a dog bed next to my foster parent's bed with no problem.
Living with Lucy
I am very playful with other dogs, but my old, wise doggie foster brother is teaching me how to play it cool and I'm starting to get the hang of it.  I think I would do very well in a home with another dog, either with one who will wrestle and play with me or with one like my doggie foster brother who is patient, tolerant, and a good teacher.  If you have another dog at home, I'd love to meet them to see if we could be a match!
I'm also living in a house with a cat, but she lives separately from the dogs in my foster home.  When I have laid eyes on the cat, though, I chase and vocalize and have trouble settling down.  For this reason, I think it would be best if I my forever home did not have any cats.
As far as people, I have LOVED, LOVED, LOVED everyone I've met – the rescue introduced me to children aged 7 and 13, and I did well with them. I must admit, though, that I can be a bit jumpy at times (but I'm told I correct well).
Lucy's Forever Home
I'm truly a good girl who will fill a home with pure joy. My kisses, butt wiggles and tail wags will bring smiles and love to the entire family. Will you give me the love and care I deserve? And make sure I get the exercise and training I need? If you feel we are the right fit, please fill out an application and be sure to say, "I Love Lucy"!