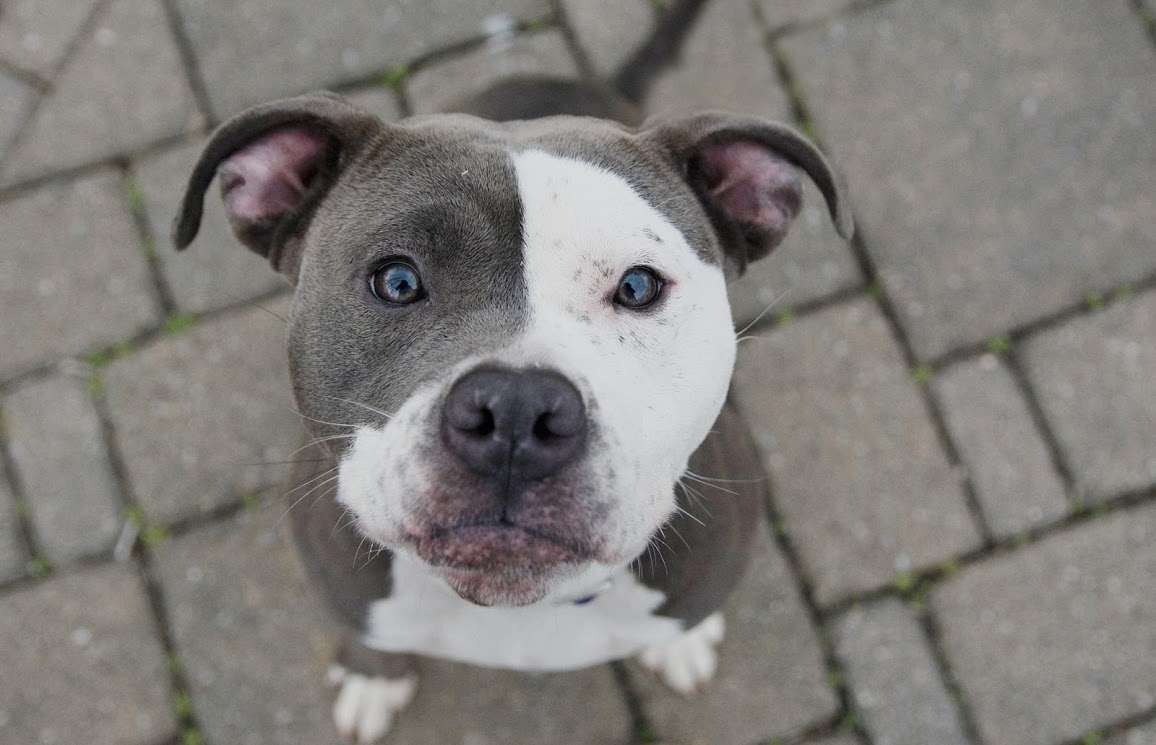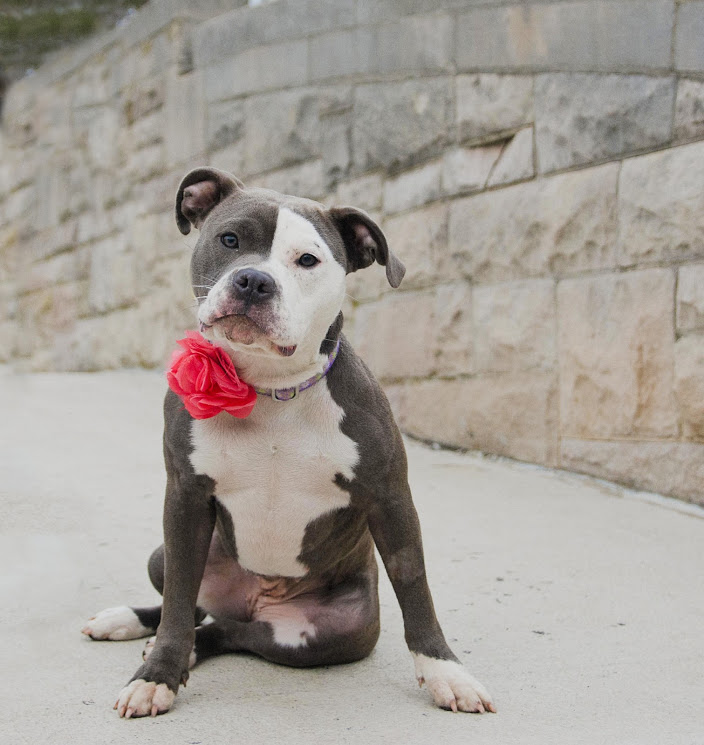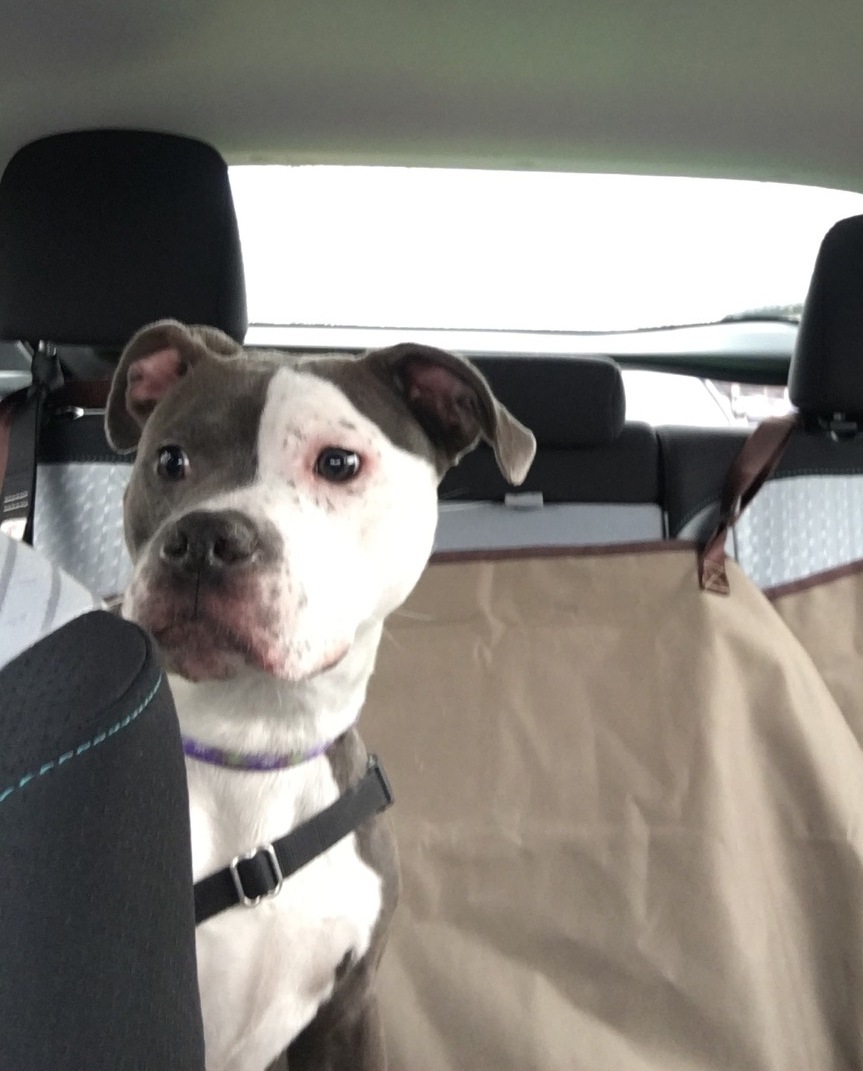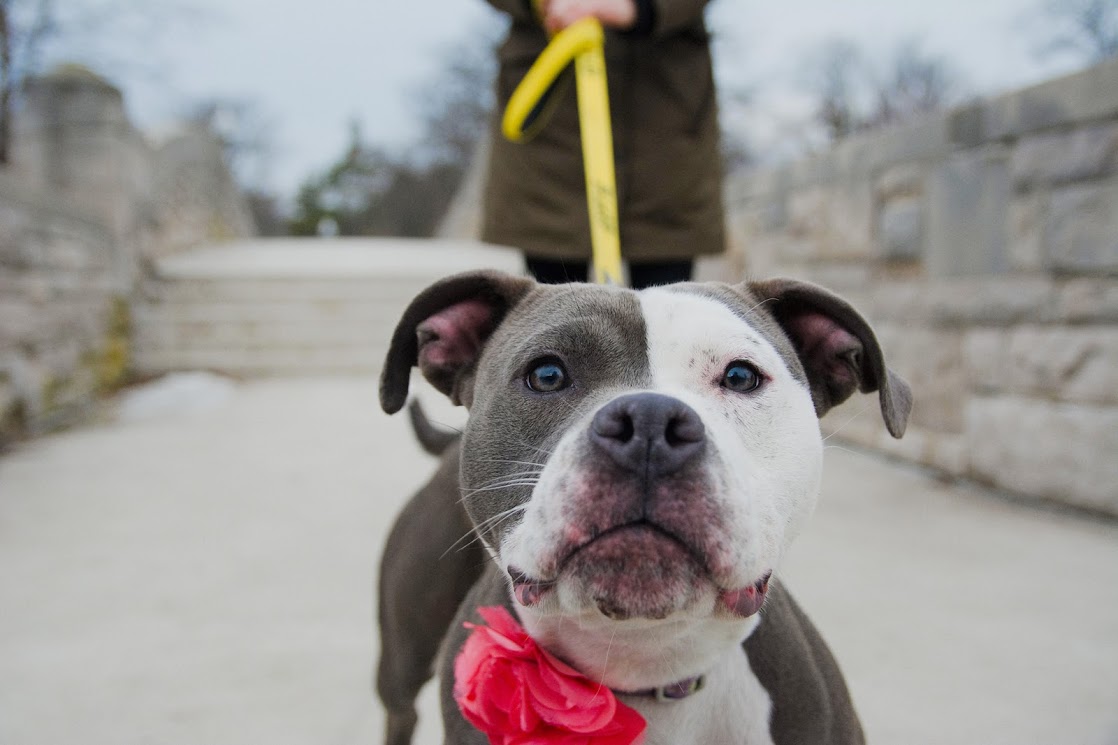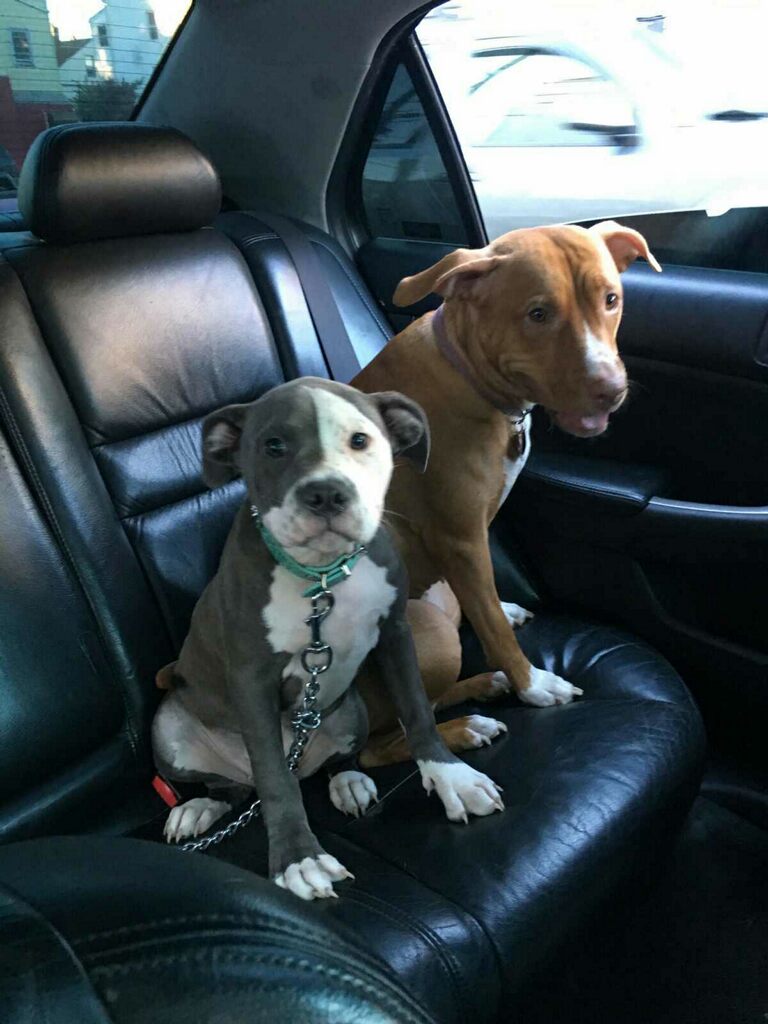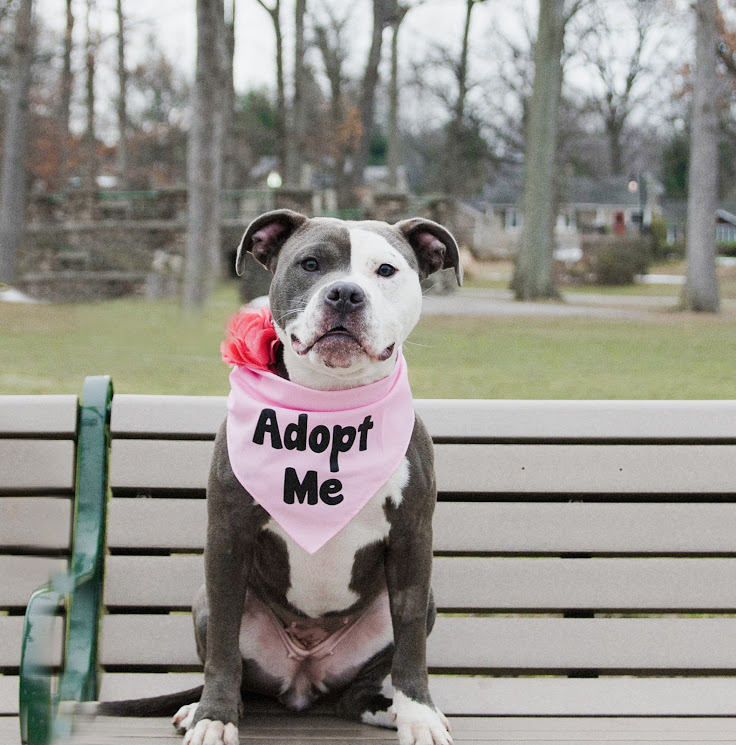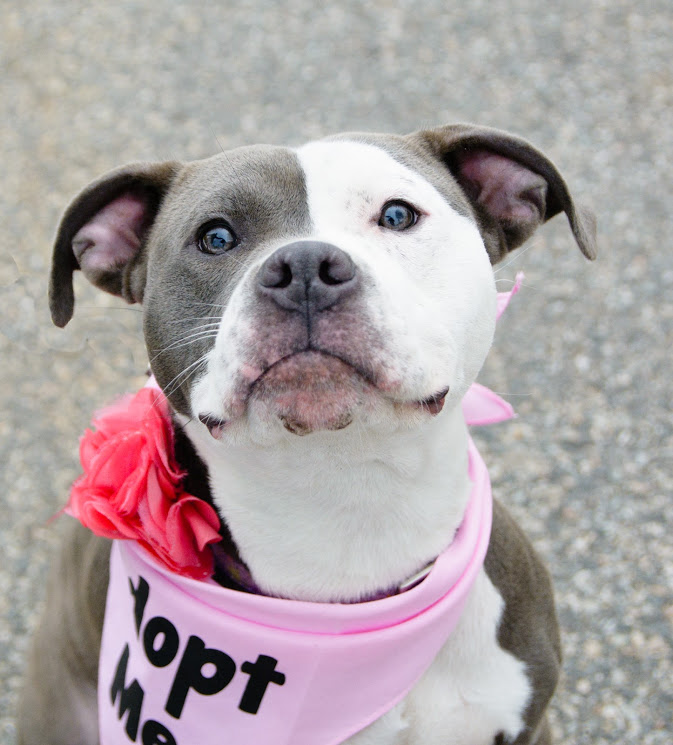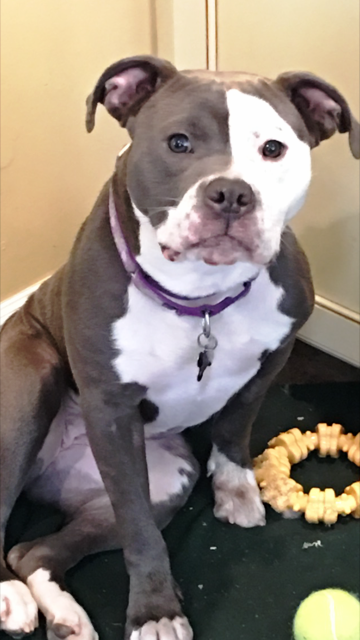 Lydia's Woof-Facts
Female, American Bully/Pitbull-Terrier mix, Born 4/26/16, 40 lbs
Gets along well with other dogs, likes to engage in play
Enjoys being around children — gets a little excited so working on keeping all four paws on the ground
Crate-trained; just about house broken — super smart and getting the hang of things super-quick
Would do well in a variety of situations; family with activity in the household would be ideal
Loves cuddling in your lap, belly rubs and playing with her toys – tennis balls are her fav!
Quick Introduction to Lydia
Hi, I'm Lydia, and I'm like laughter in the rain (happy emoji). You see, I'm known to bring joy to those who come into my world. And even though I can't speak a word of English (note: I'm very well versed in doggie talk), they say I'm really funny and that I excel at making my human companions laugh. I'm not only Rescue Haven's resident comedian, I'm also a sweet-snuggler, lap-cuddler and sports enthusiast (tennis is my preferred sport). I'm a big fan of tennis balls, and when the U.S. Open decides to use doggies to retrieve balls instead of the typical ball boys (as they excitingly debuted at the Brazil Open), I believe I will be the perfect candidate! Would you like a canine companion who will bring joy and laughter into your life, day-in and day-out? Come on, I know you have a good sense of humor! So please read on… as they say, "laughter is the best medicine" (snort, snort)! 🙂

Lydia's Background 
I was given to a local inner-city shelter by my owners (sad emoji). Why, you ask? Well, as a puppy, I was left in a crate for extended periods of time every day and never trained properly. So my prior owners felt they couldn't house-break me because of their busy schedules.  When it comes right down to it, all I really needed was proper structure, guidance, and quality time with loving humans, and in a snap, I've pretty much got this house-breaking thing down-pat – in record-breaking time, I may add. Also, when I was first rescued and doing normal doggie things, my paws were bleeding because I wasn't used to being walked (another sad emoji) – I had just been cooped up in my crate for most of my days! So it was pure joy when Rescue Haven found me, and I was able to transition to a better life! Now, my paws are all better, I love exploring on our walks, and spending time with my humans is simply awesome! We enjoy each other's company immensely, and again, as they say, "life is truly better when you're laughing"!
Lydia's Typical Day in Foster Home
When my day begins, I start if off with a big smile and a tail wag (OK, it's more of a full body wag, let me reveal the whole truth)! I'm pretty wiggly-jiggly and filled with puppy energy, and I'm super happy to see everyone in the family and give them my fun-filled "good morning" greeting. We spend a few minutes outside so I can do my morning business, and then we're ready to begin the day with some playtime! Tennis balls (of course, my fav!), a game of tug, chew toys — love all of these activities! After about an hour, it's time for a breakfast of champions. And I eat my breakfast as only a tennis champion would… I swear, it doesn't take too long for my food to completely disappear (I know I've been called a comedian but a magician too? (poof, it's all gone)! Now, it's off for our morning walk. I live with a canine foster brother, and he joins us on our escapade. I'm learning to walk really well on a leash, and while we're on our adventure, I like to spread my joy with the people we meet along the way, always giving them nice greetings! Sometimes, I walk with a stick in my mouth, and I have to admit, it's pretty adorable, and people get a kick out of it! After all these fun-filled activities, I have to say, I'm ready for a recharge, so I go into my crate and take a nice nap. In the afternoons, it's more play time for us, then later on, another disappearing food act at dinnertime, and then a nice long walk in the park or around the neighborhood. In the evenings, I enjoy playing with my toys and hanging out with my foster family. While they read or watch TV, I love to be with them, right by their feet – or even better – right in their lap, getting a belly rub (yup, I've also achieved the title of lap-dog). I have some toys that I chew on while chilling out with the family (point to note, I don't chew on anything else in the house – just my chew-toys – such a good girl)! When it's bedtime, I sleep in my crate very peacefully until our next joyful day begins.
Living with Lydia
I like dogs! As mentioned previously, I live in a foster home with a canine foster brother, and we get along well. He doesn't like to play too much, but that's OK, I don't hold it against him, as we all have our own styles. In my forever home, if you have another dog, it would be ideal if he/she were playful just like me (and that would be awesome fun)! I really like kids, I'm just super excited when I first see them, so currently, I'm learning that I need to keep all four paws on the ground (jumping is only for when I'm retrieving my tennis balls). I haven't been cat tested yet, but if you have a purring-feline at home, please let us know, and we can make sure I'm evaluated in that type of setting. Oh, I do like chasing squirrels, but don't fret, I'm not a big puller on my leash (good girl, again, Miss Lydia)!
Lydia's Forever Home
In closing, I'd like to sing one of my favorite tunes to you in hopes of spreading my joy and bringing you laughter. "Joy to the world, all the boys and girls now, joy to the fishes in the deep blue sea, joy to you and me." Could you be the forever family I'm looking for? Each day, I'd love to bring you joy, make you laugh, cuddle with you, get belly rubs, and have our playtime together. I yearn for a family who will love and care for me, in a way I truly deserve. And all I want to do is to make someone happy. Could you be my happy person? If so, please fill out an application with Rescue Haven, and ask for Lydia, your "Joy to the World".