Brook Lyn's Woof Facts:
Female, pocket-pittie, 7 years young, approximately 37 pounds
Sweet as can be!
"Happy" is her theme song
Walks like a dream on a leash
Spayed and healthy (a little plump, but working on it!)
Crate trained and housebroken
Great listener – knows some commands and is learning more
Quick Introduction to Brook
Brook Lyn here, and I am extremely happy, pretty much all the time! I love snuggling and belly rubs. I also enjoy running around the house and sniffing everything. And when I do that, I make these little piglet noises, kind of like, "oink-oink" but doggie style! On walks, even though my legs are short, I trot my stuff like a runway-model – hey, I have important people to kiss and amazing places to sniff! I've also gone on some beginner jogs with my foster mom, and she's says I've been a good partner. Just think, we can stay in beautiful shape together! My manners are second-to-none – I go in my crate easily and stay there quietly, I'm learning "wait" before I'm ready to eat, and I stay calm as a cucumber during bath time. I'm always in a good mood, and that vibe can be contagious, so please read more about me if you are interesting in being part of my happy place!
Brook's Background
Apparently, my owner left me at a large, inner-city shelter, and we have no idea why. My foster mom says I'm such an awesome dog and cannot imagine how or why anyone would have given me away. I have to think that, one person's loss is another person's gain, and my new life with Rescue Haven Foundation is the perfect stepping stone for me, and my new forever family, to both find our "gain".
Brook's Typical Day in Foster Home
I've been in my foster home only a short while, and there's really not a "typical" day there… some days vary, and that's OK, because that teaches me how to adapt. For example, my foster dad travels sometimes, but when he's not travelling, he works from home. On those days, my foster mom feeds me breakfast and takes me outside to do my business first thing. Then I'm excited to come right back inside and get the day started. I get to hang out with my foster dad as he works in his home office. I sleep in a cat bed they have in there (my curves can snuggle right into it, just right!). I get belly rubs and cuddles when foster dad takes some breaks as the day progresses. And just when you thought it couldn't get any better… there are some days when my foster mom works from home, and it's the same scenario, just with her instead (did I hit the jackpot, or what!). We take some walks, eat our dinner, and at night, I sleep in a crate in their bedroom. There are also days when both my foster mom and dad are working outside the house, so I stay in my crate and am a very good girl.
Living with Brook
I've been around other dogs since I'm under Rescue Haven Foundation's wing, and I don't mind being in their presence or sharing the environment with them. I do like my own personal space though, so when another doggie gets too close, I can be a bit uncomfortable (you know, it's that respect my personal space thing). So if you have another pooch in your home, we'll just need to take it slow on getting to know each other. On the other hand, if I will be the only pooch in your home, well that might just make Little Miss Happy, even Little Miss Happier (woof)! I've been in the presence of cats too… I bark a little and like to chase them, but my tail is wagging the whole time. Therefore, slow, supervised introductions would be needed to further assess me in that situation.
Brook's Forever Home
As mentioned, I'm on my stepping stone, searching for my true forever family. I'd be an amazing companion who can bring so much caring, love and happiness to someone, and I'm looking for the same in return. Are you ready to ride the happy train with me? "Clap along if you feel like happiness is the truth, because I'm happy. Clap along if you know what happiness is to you, because I'm happy. Clap along if you feel like that's what you wanna do…" If so, fill out an adoption application with Rescue Haven Foundation, and ask for Brook Lyn, Little Miss Happy!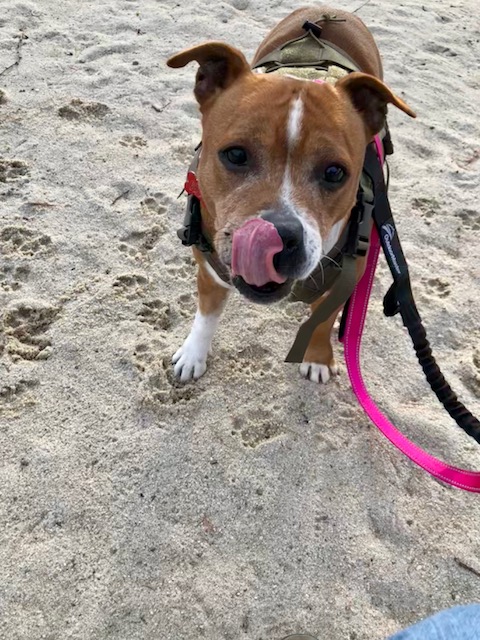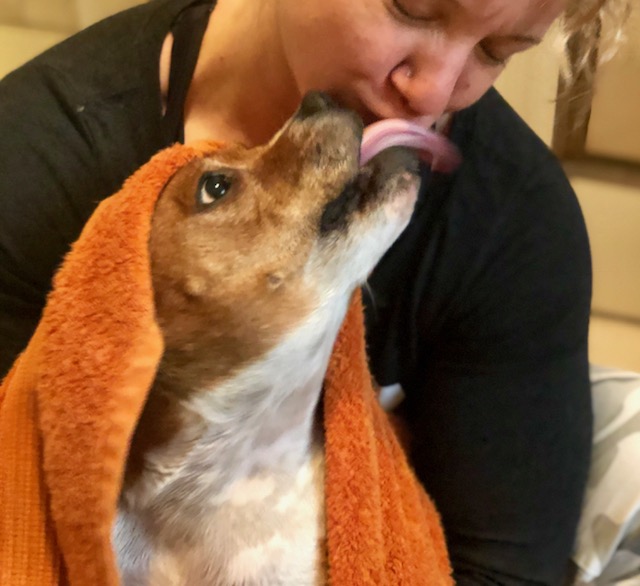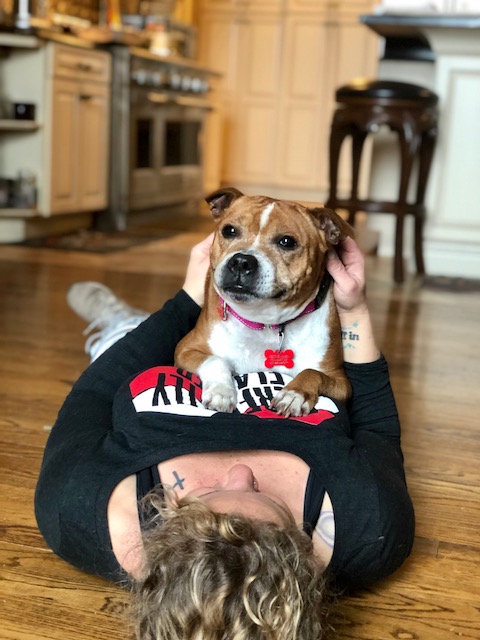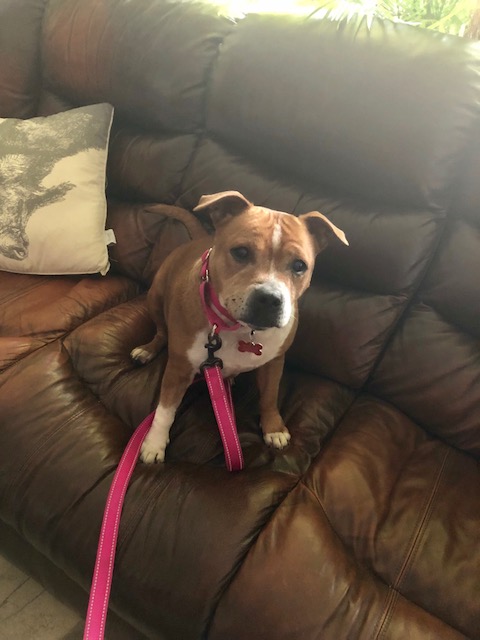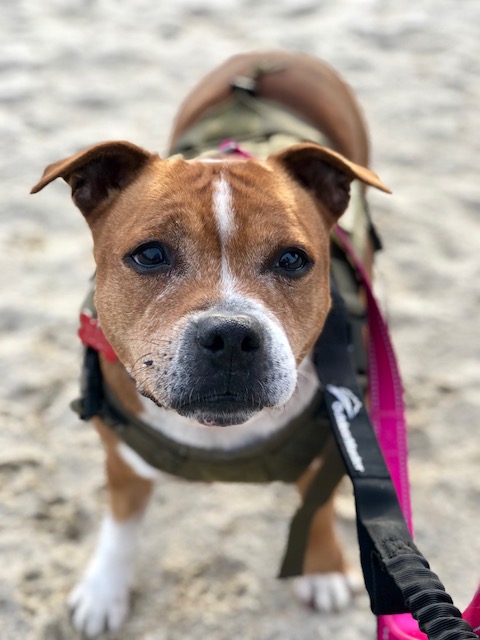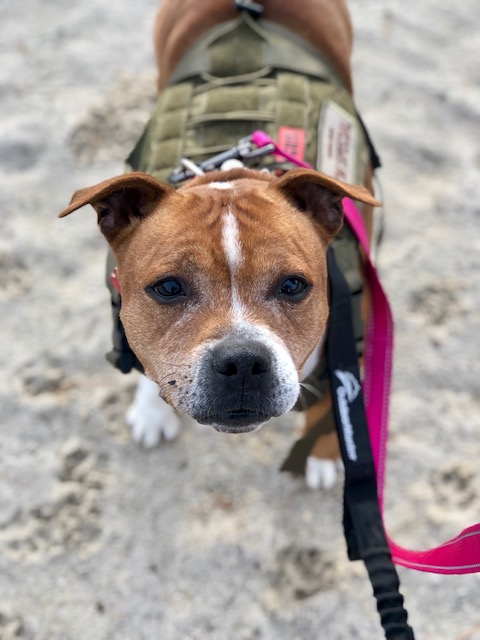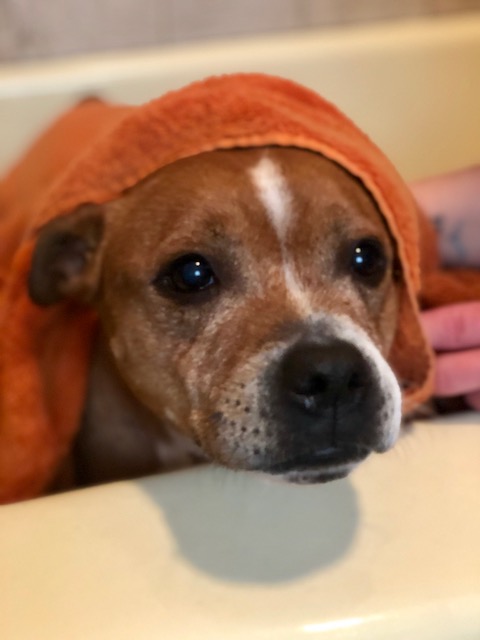 Your Valentine, Brook Lyn, is waiting for you!