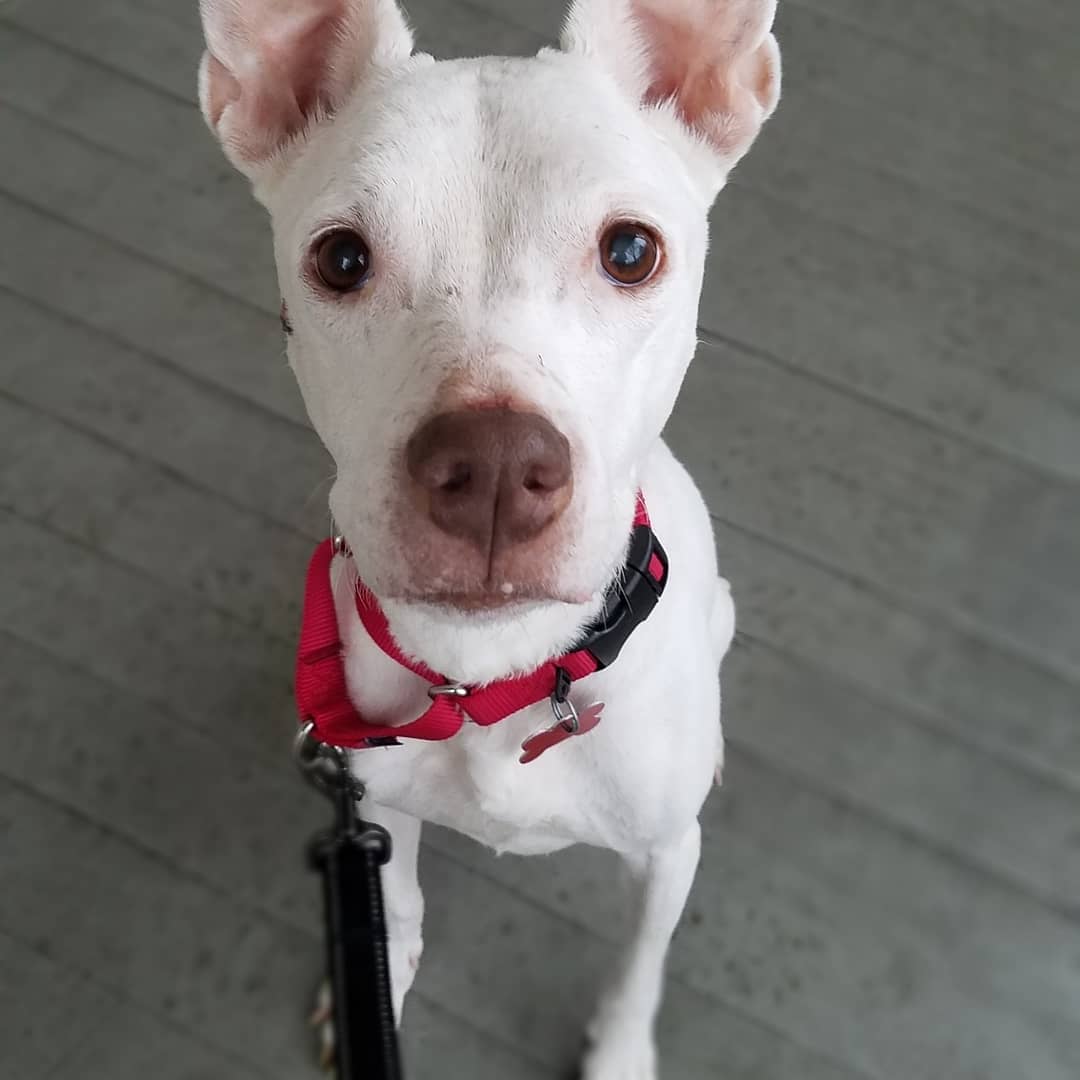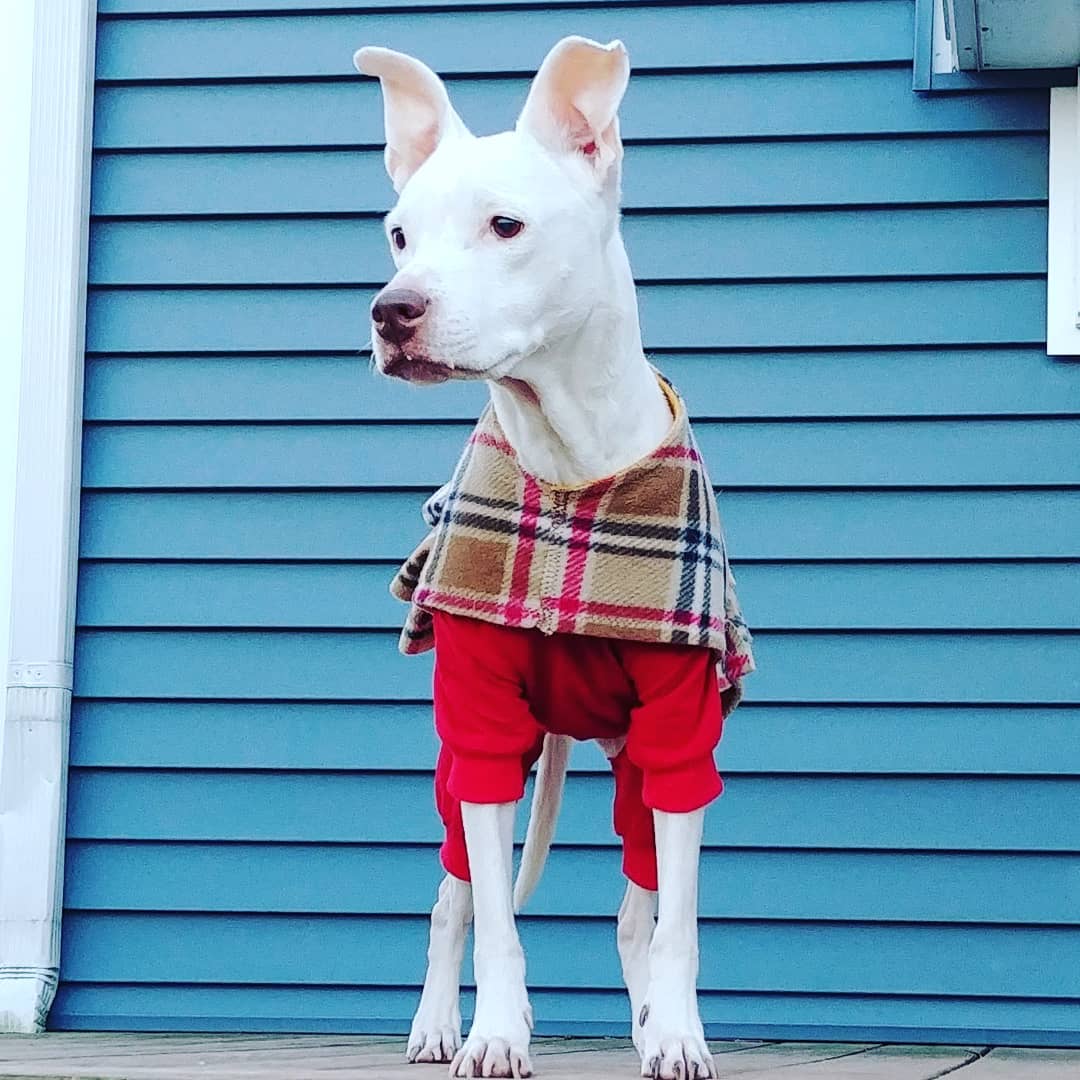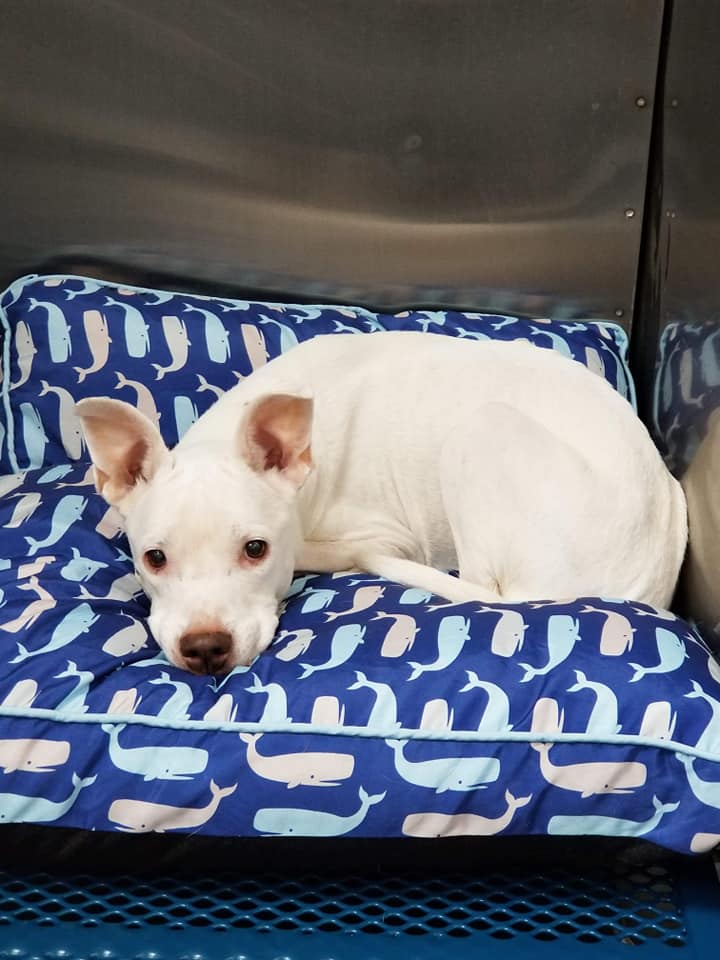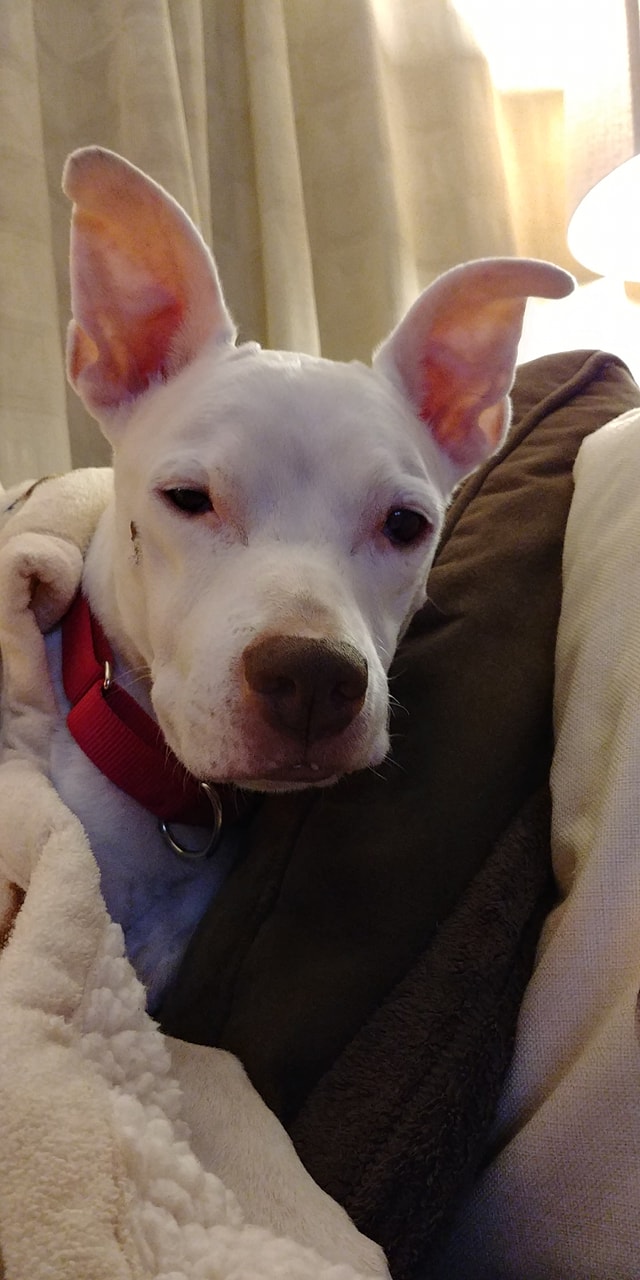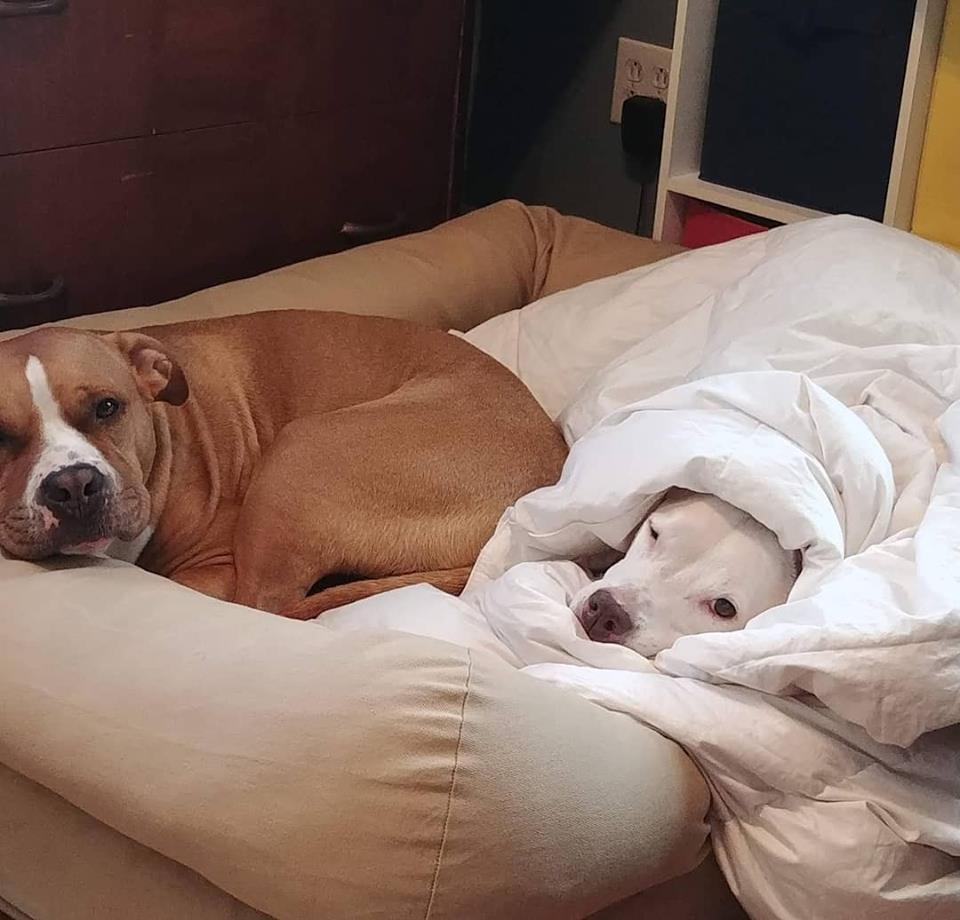 Pink's Woof-Facts
Female; mixed breed; 10-12 years young; weighs just under 40 lbs – plan is to get to 45 lbs

Sweet and gentle, snuggly wuggly

Gets along with dogs and cats; calm and relaxed in their presence

Cutest ears ever, even if they don't function at 100% (simply part of aging)

Crate trained, almost house broken

Isn't around children in current foster home – we're told she's good with kids from prior caretaker
Quick introduction to Pink
Hi, I'm Pink (I'm really white as snow, but Pink is my actual name). I'm a sweet and gentle little dinky dog. I love to snuggle either right next to my peeps or by burrowing myself under my blankets. And if I'm able to snuggle right next to my peeps while also being right under their blankets, that's doubly awesome! For the most part, I'm a mellow, low-energy gal, but when you take out my leash, I'll enjoy going for a nice walk with you. My foster folks bought me some fashion-forward canine clothes, and I strut my stuff like a runway model during our walks Sometimes I even lounge around the house in style, and I love every minute of making a fashion statement! You can check out some of my trendsetting styles right here.
Pink's Background
I had an owner who abandoned me. She dropped me off at her friend's house and never came back to get me. I can't even imagine doing that to someone! I was then brought to an inner-city shelter. Despite being underweight and so unsure about what the future held for me, I was a total sweetheart at the shelter. When the Rescue Haven Foundation volunteers came in and saved the day, I put on my big-girl shoes, and with a warm and loving heart, I walked into my new forever journey with them by my side.

Pink's Typical Day in Foster Home
I wake up around 6:30 a.m., go out for potty and then eat my breakfast. Afterward, I find one of my stuffed toys (my stuffie) and have playtime – which consists of me walking around the house with my stuffie in my mouth, making some whimpering sounds, and looking for a place to stash my stuffie until the next round of playtime. I go on another potty break before my foster peeps leave for work. While they are gone, I find a great sun spot in the house, and take a siesta. I have a dog sitter who comes to check on me during the day, we go out for a little while, and we snuggle on the couch (awesome!). Throughout the day, as the sun revolves around the earth, I follow the sun spot throughout the house and take my naps wherever it is radiating. On days when there's no sun, I like to cocoon myself into a blankie. When my foster folks return from work, I eat dinner, I repeat my stuffie game and then it's time for our walk. When we return home, my humans cook and eat dinner, and I hang out and watch (I eat a little bit more too as we are trying to help me put on some weight). Afterward, it's snuggle time on the couch or cocoon time on one of my dog beds (yes, I have more than one – aka "spoiled"!). There's one last potty break before bedtime. I'll admit, my favorite sleeping spot is under the covers on my foster peep's bed, yet sometimes I'll cocoon myself under my down comforter on my heated doggie bed (warm and fuzzy, literally and figuratively)!
Living with Pink
I currently live with another dog and two cats, and we all get along just fine. I don't really make an attempt to play or snuggle with them, yet I'll share my spot on the bed or couch with the other doggie. And I don't even chase the cats at all – or show any interest in small animals on our walks — I'm such a good girl! I don't display any signs of separation anxiety, so we feel I'd also be fine as the only pet in the home. I have not been exposed to children since with Rescue Haven Foundation, but my intake form said that I was OK with children, so we can have me assessed in that environment if you have kids in your family.

Pink's Medical
I'm a bit hearing impaired and have mild arthritis simply due to aging. Otherwise, I'm a senior girl with pep in my step, and I'm feeling good!

Pink's Forever Home
My sweet and gentle demeanor, the fact that I get along with other dogs and cats and/or would do just as well in a home as the only pet, all make me an ideal fit for many forever family situations. I'll be all yours, as long as you promise to care for me forever, love me forever, let me snuggle under the covers with you, and that you'll enjoy watching me hide my stuffie during playtime, and let me strut my stuff on our walks. And if you'd like to dress me in some cool canine outfits, that will continue my fashionista status. If you've fallen in love with everything about me (including my big ears that don't hear too well), please fill out an adoption application and ask for Pink, that's Pretty in Pink (although I'll will wear canine fashions in any color of your choosing)!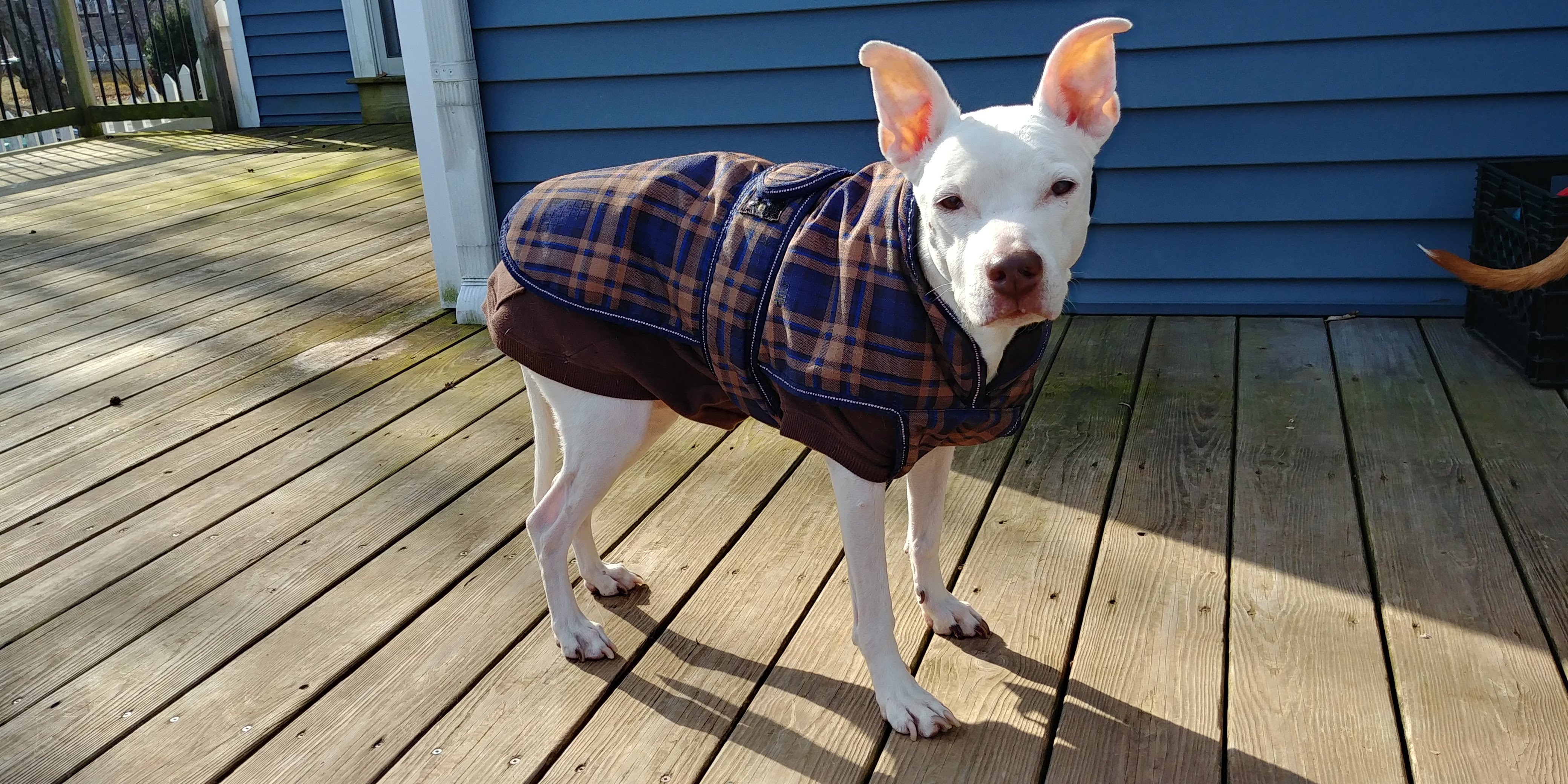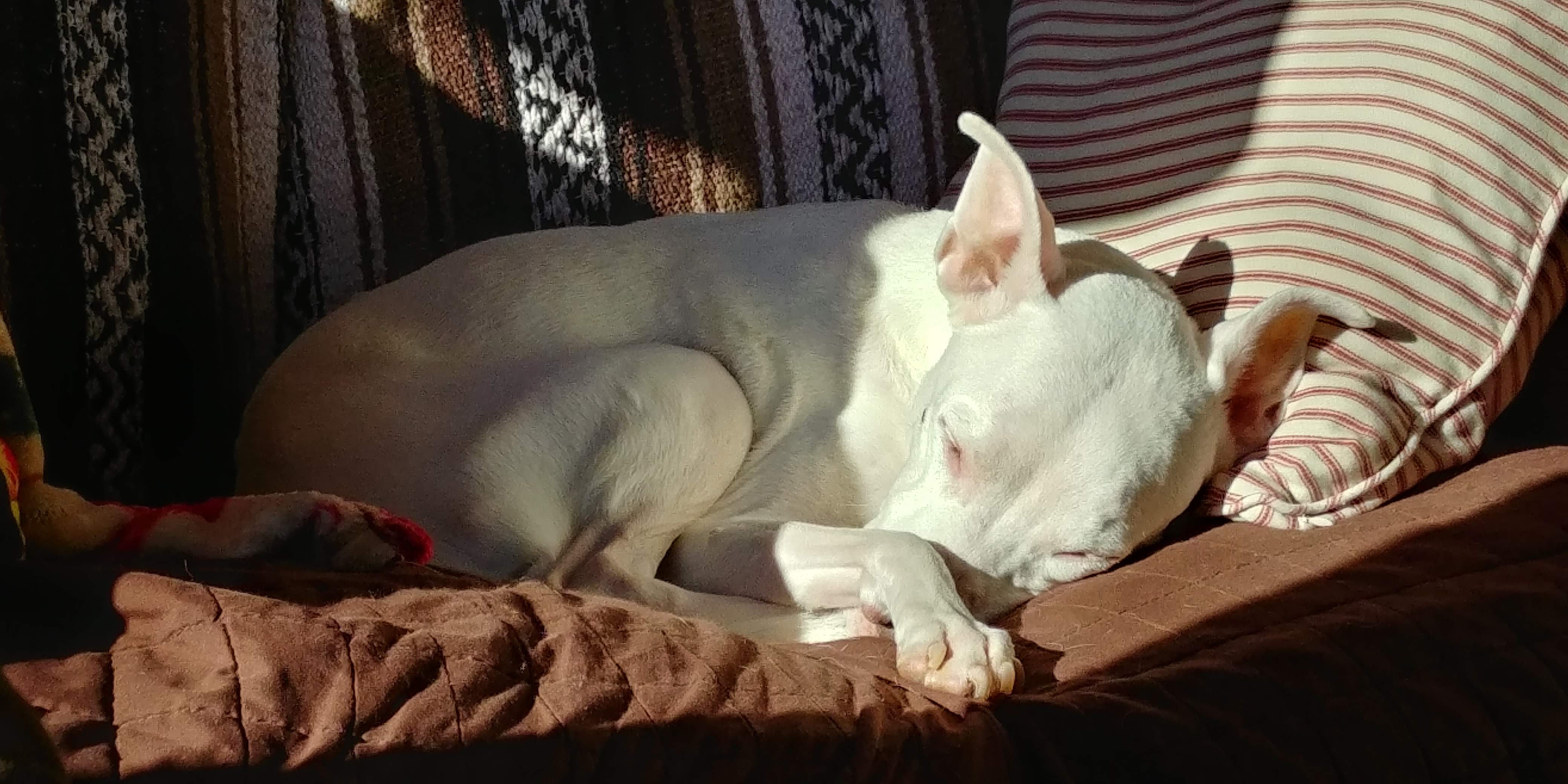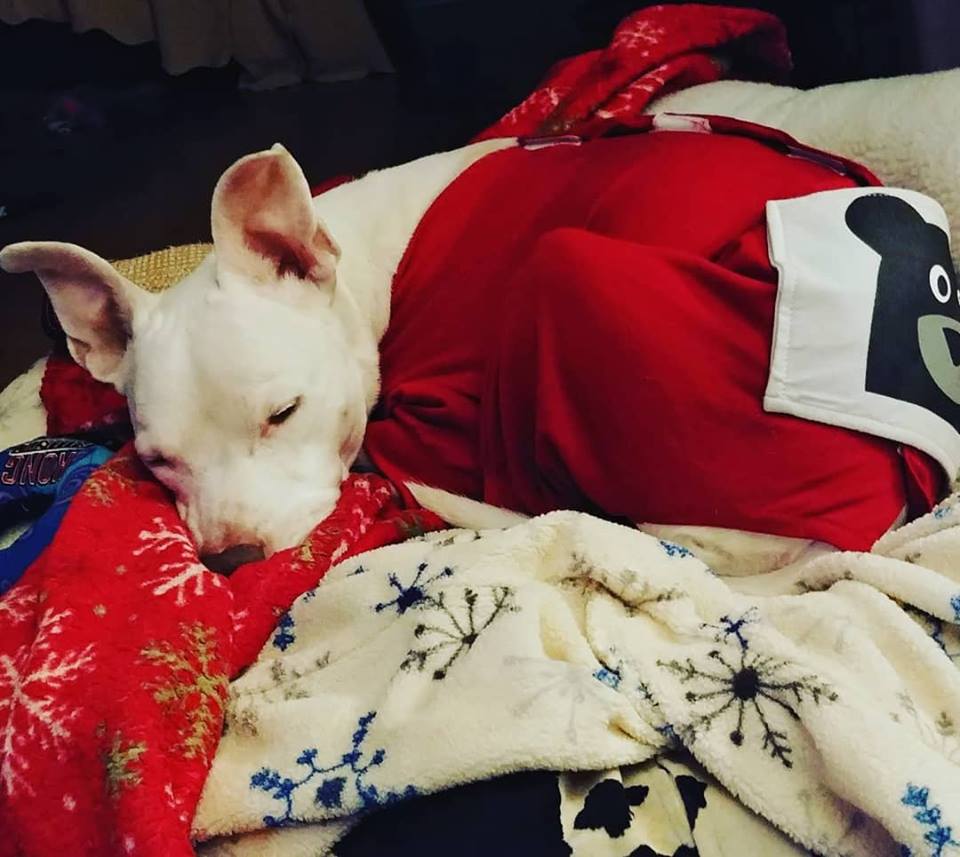 Can't get sweeter than me!